Check out the five I-can't-live without of the week.
Intimissimi blouse (
intimissimi.com
)
No matter if you're a dark or a romantic soul, this crepon blouse is the best answer both for day and night, thanks to the pearl detail on the collar.
Layer it with a black top as it was a jacket by day for instantly downtown chic, and team it with a glamourous satin bra.
wear it with...


Etro silk top
Agent Provocateur satin bra
Bottega Veneta embellished silk top
Miu Miu glitter-finished leather booties
This season Miu Miu gave a shot of glamour to the classical Chelsea boots with a glitter-finished texture, which paired to the Swarowski studded heel give you an immediate rock star allure.
Alexander McQueen brocade clutch bag
Collect the ultimate edgy accessory in your afterdark wardrobe with this eggplant brocade box clutch.
Match it with black or burgundy ultra-chic dress and wait for the dark...
I definitely love this. I cannot find a "fashion mag" description because this leather effect cuff is exactly the kind of stuff which will flawlessly complete your total black outfit (but just an advice, it'll be perfect with a chiffon sleeveless top and platform ankle booties).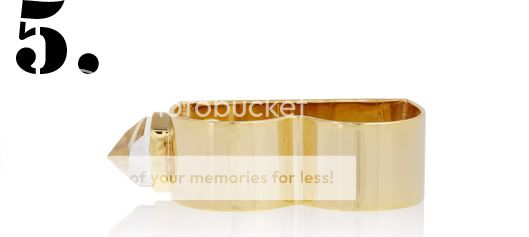 Esteban Cortazar gold pleated double ring
This gold pleated double ring, ornamented with a quartz spike will add an edgy and
rock
appeal
to all of your outfits. It'll run so sophisticate if teamed with a white and virginal dress and other statement detail, for a super contemporary look.
(where not specified, items are available @
net à porter
)
love, Afra