Mais regarde qui voilà!
Darling, I hope I can say I'm finally back writing on Tenue du Jour, I have missed it, but you know, life at university is so hard and challenging; moreover, this is my 3rd and last year at NABA (acronym of Nuova Accademia di Belle Arti Milano) so I'm working hard to launch my graduation collection and I'm of course focused on my remaining exams.
By the way, why don't taking advantage of these Christmas holidays to hand out festive style tips?
Let's start!
Add a pop of sparkle to your bright Christmas with the ultimate holiday sweaters, paillettes embellished and overjoy printed.
Team yours with a romantic bubble skirt and festive statement accessories: a Christmas bow ring (adorable!) and glittery gold loafers to finish your holiday outfit with a preppy and ladylike hint.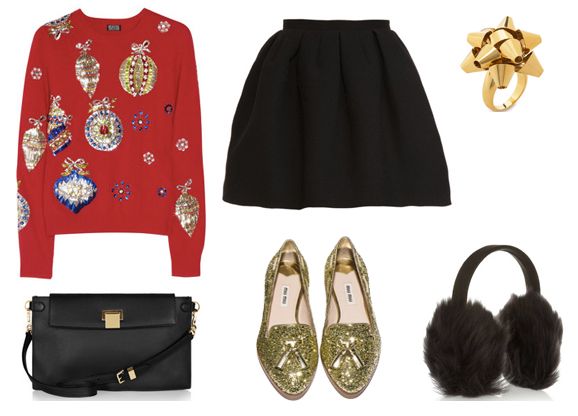 Medham Kirchhoff festive embellished sweater
The Row shoulder leather bag
Karl Donhogue earmuffs
Carven bubble skirt
Miu Miu glittery loafers
Kate Spade bow ring
BLING BLING kisses!
afra